Energy Transition in Africa
Recorded On: 10/07/2021
Register

Non-member - $25
Member - Free!
NOC - Free!
Student - Free!
Organized by the Africa Chapter
Dr. Victoria R. Nalule, CEO, Nalule Energy & Mineral Consultants
Ademidun Edosomwan, Managing Director, Emerging Markets at TotalEnergies Ventures
Taciana Peão Lopes, Managing Partner, Taciana Peão Lopes e Associados
Moderator: Latifat Folashade Yusuff, Deputy Chief Legal Officer, Nigerian National Petroleum Corporatio
Popular opinion holds that the world's shift towards cleaner energy sources will impact Africa in a way that might be fundamentally different from the rest of the world, given the high dependence of some of its economies on the export of hydrocarbons, coupled with prevalent energy poverty on the continent. This webinar explores energy transition as it relates to the African continent, its impact on the economies and the people, and will examine the use of gas, solar and other renewables in the energy transition drive.

Viewers will leave with a better understanding of:
The peculiarities relating to Africa and energy transition
The energy strategies and policies of different African countries
Activities and projects that have supported the energy transition drive in Africa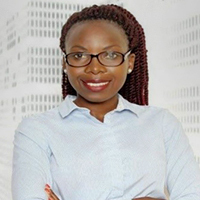 Dr. Victoria R. Nalule
CEO, Nalule Energy & Mineral Consultants
Dr. Victoria Nalule is a lawyer and an Energy and Mining expert, with extensive experience working on various projects in the different parts of the Globe. She is a holder of a PhD in International Energy Law and Policy (Dundee). Victoria is the Founder and Executive Director of the African Energy and Minerals Management Initiative. She is the CEO and lead consultant at Nalule Energy & Minerals Consultants (NEM- www.nemenergyco.com).
She is an Energy Arbitrator at the Energy Disputes Arbitration Center (EDAC), Turkey. She is also a Senior Research Fellow in Mining Law & Governance at the Institute for Oil, Gas, Energy, Environment and Sustainability Development (OGEES). She is a committee member at the International Law Association (ILA): and at Access for Women in Energy-an international NGO.
Victoria is an author and has widely published on topics relating to oil, gas, renewable energy, climate change, mining and International Arbitration. Her latest five books covering energy, mining, land access and Extractives, energy arbitration, and negotiation in Extractives.
Victoria offers extensive experience in the Energy and Mining sectors having worked with various institutions; regional and international organizations including assignments for The Queen Mary University of London (EU Energy Project); The International Energy Charter Secretariat in Belgium; The Columbia Center on Sustainable Investment in New York; the East African Community Secretariat in Tanzania; the University of Dundee; the Southern African Development Community Secretariat in Botswana; International Arbitration Case Law in New York; Institute of Petroleum Studies; Uganda Christian University; Journal of Mines, Metals and Fuels (Editorial Board Member); She has also worked with both the private and public legal sectors of Uganda including Kakuru & Co. Advocates and the Anti-Corruption Court.
She has presented as a speaker and panellist in several forums and conferences. She has also advised African governments on oil, gas and mining projects including appearing as an expert witness before the Commission of Inquiry into Land matters in Uganda; presenting comments on the South African Petroleum Bill before the country's Policy Makers; leading a team of energy experts in reviewing Energy/Mining laws and policies for countries such as Namibia, Ethiopia, Uganda etc.
Victoria has an active YouTube Channel and Podcast both focused on energy and mining discussions. She is one of the few people who got her PhD in less than 3 years below the age of 30 years. For more, visit www.victorianalule.com.
$i++ ?>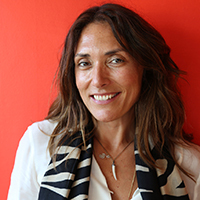 Taciana Peão Lopes
Managing Partner, Taciana Peão Lopes e Associados
Taciana Peão Lopes is a Mozambican energy/oil and gas lawyer with a Masters in Energy Law through the LLM - North Sea Energy Law Program, by the Universities of Oslo, Aberdeen, Groningen and Copenhagen.
Taciana is the founding and managing partner of TPLA – Taciana Peão Lopes & Associados, a boutique law firm focused in assisting the development of energy and infrastructure projects that can bring a transformational impact to Mozambique. She has been advising developers, sponsors, investors, multinational lenders and commercial banks to develop, construct and finance power plants ranging in size from 30 MW to 600 MW utilizing diverse technologies as natural gas, coal and hydroelectric, as well as alternative technologies such as solar and wind, by guiding the clients through a challenging regulatory regime. She and the team of lawyers of TPLA are proud to have successfully advised the sponsors of the Mocuba Solar Power Project, the first Mozambican PV plant developed in Mozambique, which was commissioned in 2019.
Passionate about enabling universal access to energy, Taciana was one of the lawyers of the team advising the Ministry of Mineral Resources and Energy with the review and drafting of the new Electricity Law and with the Regulation for Of-Grid Access to Energy.
Taciana has been involved in the first LNG export project in Mozambique, which is one of the largest LNG projects worldwide. Her expertise in LNG includes the drafting and negotiation with the Government of the Republic of Mozambique of the legal instruments required for the creation of a new legal framework for the implementation and financing for LNG in Mozambique.
Due to her expertize in local content, she has been appointed CEO of Mozambique Enterprise Solutions, a Mozambican company responsible for establishing an Enterprise Development Center- MozUP for the Area 4 Rovuma LNG Project, in collaboration with the government of Mozambique and the private sector. The EDC – MozUP is a platform to develop qualified, competitive Mozambican businesses with transferable skills that can support a variety of Mozambican growth sectors, including the extractives industry. Services include business assessments, consulting and advisory services, quality and safety certification requirements and information on accessing capital.
Taciana is a co-founder and the Director of MWE - Mozambique Women of Energy a platform of women in all fields of the energy sector with the vision to improve quality of life in Mozambique by facilitating equal access to energy for all and targeting SDGs 5 and 7. MWE is based in four pillars of action – Think, Build, Connect, Lead - and one of MWE main objectives is to support women in rural, peri-urban and urban settings in attaining access to affordable, reliable and modern energy services.
Taciana is the mother of four children and married to the Mozambican musician/composer/producer Joni Schwalbach.
$i++ ?>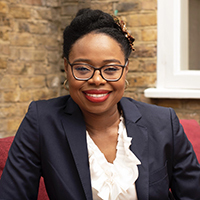 Ademidun Edosomwan
Managing Director, Emerging Markets at TotalEnergies Ventures
Ademidun Edosomwan (Demi) is Managing Director, Emerging Markets at TotalEnergies Ventures (TEV). TEV is the venture capital arm of TotalEnergies, the global energy company. As part of TotalEnergies' commitment to better energy, TEV is focused on finding, funding and fostering high-potential start-ups which will contribute to creating a low carbon future. Demi leads TEV's investment activities in emerging markets with a focus on clean energy solutions and sustainable mobility.
Demi represents TotalEnergies as an observer on the board of several portfolio companies including Ampersand, SparkMeter, Shyft Power Solutions and Angaza. Demi joined TotalEnergies in 2006 and has held various positions in London, Paris, Kampala & Lagos. Prior to TotalEnergies, she worked with KPMG in Lagos. Demi holds an Executive MBA from INSEAD and an LLM from the University of London.
$i++ ?>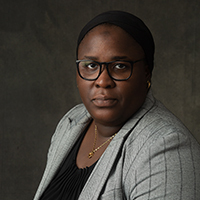 Latifat Folashade Yusuff
Deputy Chief Legal Officer, Nigerian National Petroleum Corporation
Latifat Folashade Yusuff is a lawyer with over 18 years post-call experience, specialising in upstream oil and gas legal advisory. She is regularly involved in the negotiation and management of contracts devolving from production sharing arrangements, joint venture arrangements, gas sales, unitisations, marginal fields and other related agreements in Nigeria.
She is a Deputy Chief Legal Officer with the Nigerian National Petroleum Corporation (NNPC) and the current Alternative Africa Regional Director for the Association of International Petroleum Negotiators (AIPN). She is a contributor to two of Globe Law and Business topical books, "Upstream Law and Regulation: A Global Guide, Second Edition" and "African Upstream Oil and Gas, A Practical Guide to the Law and Regulation".
$i++ ?>
Key:
Complete
Next
Failed
Available
Locked
Open to view video.
I agree to keep confidential and private all information provided in this webinar, including the handouts and presentations found in this webinar, strictly for my own use and not to share, forward, distribute or make available any of this information for persons who are not members of AIPN or persons who have not paid to view this webinar.