Oil & Gas Projects in Ecuador: Presidential Election Results, Legal Challenges and Solutions for Investors
Recorded On: 02/09/2021
Register

Non-member - $25
Member - Free!
NOC - Free!
Student - Free!
Organized by the Latin America & Caribbean Chapter

Enrique Jaramillo, Associate Director, IHS Markit
Francisco Larrea, Director, Oil & Gas and Energy, Noboa, Peña & Torres
Patricio Albuja, Legal Manager, SERTECPET
Moderator: Diogenes Bermudez, Senior Legal Counsel, McDermott International, Ltd.
The panelists in this webinar discuss Ecuador's new legal outlook in the face of the results of the first round of the 2021 elections. These experts, composed of some of the foremost experts in their fields, not only identify the most relevant challenges that international and national investors face but, more importantly, also the different ways in which they can overcome such challenges and turn them into opportunities.
This discussion is timely as Ecuador has started to promote a number of oil and gas projects with the objective to revamp the industry. The South American nation is aiming to attract over 9 billion dollars in the following year in international and national investment for projects ranging from petroleum licensing rounds, workover of old wells, construction and operation of two refineries, and management of one offshore terminal.
In the last 10 years, Ecuador has taken a number of measures that have impacted the oil and gas industry vastly. From the termination of all the country's BITs and its withdrawal from the ICSID Convention, to the return of the production sharing agreement and the recent adoption of the new Environmental Regulation of Hydrocarbons Operations. These measures have changed the landscape for investors in Ecuador deeply, and they have to be known and discussed by the community now, at the outset of the country's crusade for new investment.
Specifically, the panelists discuss:

The results of the first round of the 2021 elections.
Investment opportunities in Ecuador
Legal and contractual mechanisms and instruments to enter the Ecuadorean market, from licenses, to farm-ins, to sale of assets and mergers and acquisitions.
The impact of the new Environmental Regulation of Hydrocarbons Operations
Status of investment protections for foreign investors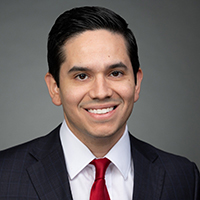 Enrique Jaramillo
Associate Director, IHS Markit
Enrique Jaramillo is a dual-qualified attorney, licensed to practice law in the State of New York, and in the Republic of Ecuador. Mr. Jaramillo holds a Juris Doctor (JD) degree from the University of Houston Law Center, two master's degrees in Law and Economics (LL.M.) from the Universität Hamburg (Germany) and the Università di Bologna (Italy), a postgraduate degree in Tax Law from the Universidad de Castilla-La Mancha (Spain), as well as a JD equivalent from the Universidad Católica Santiago de Guayaquil (Ecuador).
Mr. Jaramillo is an Associate Director with IHS Markit in Houston, Texas. He specializes in advising governments and international oil companies on issues of international energy and environmental law including on petroleum laws and concession or production sharing agreements; domestic and international petroleum fiscal systems; safety and environmental legislation related to the oil & gas industry; and oil and gas regulatory compliance. Mr. Jaramillo also specializes in developing recommendations and drafting policy, regulation, compliance guidelines and inspection manuals relating to petroleum and environmental law. Mr. Jaramillo's international practice has allowed him to work in different parts of the world including North America (United States and Canada), Europe and Latin America. He is familiar with the petroleum and environmental laws from a plethora of jurisdictions including almost every oil producing country in the Americas, as well as numerous European and African nations.
Enrique is also an avid writer. He has near a dozen published works on different matters ranging from international energy law, environmental law, and international dispute resolution. Enrique is also Assistant Editor with the Kluwer Arbitration Blog, and Content Editor with the ITA in Review, the journal of the Institute of Transnational Arbitration.
$i++ ?>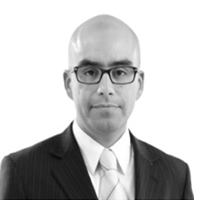 Francisco Larrea
Director, Oil & Gas and Energy, Noboa, Peña & Torres
Francisco Larrea is the Director of the Oil & Gas and Energy practice at Noboa Peña & Torres Abogados in Quito. Francisco is an expert in this area, with extensive experience in complex corporate structuring, project financing, local and cross-border M&A and other corporate transactions in the context of major Oil & Gas and Energy projects. He has provided specialized counseling at all levels of the upstream and downstream industries. He has advised clients in Ecuador's largest recent Oil & Gas and Renewable Energy Projects, acquisitions, tenders and new operations. His practice includes national and international litigation and arbitration in these fields and possesses deep transactional and regulatory expertise.
Currently, Francisco is professor of arbitration in the Litigation and International Arbitration master's degree program of the Universidad San Francisco de Quito.
Francisco is a Lawyer from the Pontificia Universidad Católica de Ecuador in Quito with a master's degree in Corporate Law from Universidad San Francisco de Quito, and an LLM from Penn State University.
$i++ ?>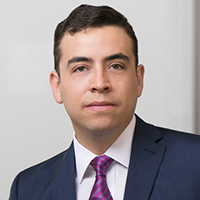 Patricio Albuja
Legal Manager, SERTECPET
Patricio Albuja is an attorney licensed in Texas and in Ecuador with vast experience in energy matters. He holds an LL.M. degree from the University of Texas in Austin with a concentration in Global Energy, International Arbitration & Environmental Law and was grantee of a partial scholarship from the Rocky Mountain Mineral and Law Foundation. He obtained his law degree from the Universidad San Francisco de Quito. He also holds several diplomas, among them, a Diploma from the London School of Economics in Introduction to English Law and a certificate from the Rocky Mountain Mineral and Law Foundation for participating in the Oil & Gas short course. Due to his specialized practice, Mr. Albuja has been able to represent clients in Ecuadorian and international transactions. Among them, it is worth noting his in-house work at Andes Petroleum Ecuador Ltd. – a Chinese capital oil operator in Ecuador; his Texas and international practice at Bracewell LLP in the Houston office; as Associate in Pérez Bustamante & Ponce as part of the energy team of the law firm; and, currently as Legal Manager of Sertecpet S.A., an Ecuadorian multinational oil service company. Mr. Albuja's national and international accumulated experience has allowed him to represent companies especially in oil & gas transactions in upstream, midstream and downstream, as well as in renewable energy and mining projects.
$i++ ?>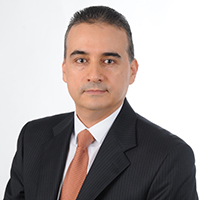 Diogenes Bermudez (Moderator)
Senior Legal Counsel, McDermott International, Ltd.
Diogenes Bermudez is an experienced energy and infrastructure attorney admitted in Texas and Venezuela. He holds a master's degree from Georgetown University and a Ph.D. in Law from Universidad Central de Venezuela, where he also obtained his Bachelor of Laws and a graduate degree in Administrative Law. Mr. Bermudez is Senior Legal Counsel with McDermott International, Ltd., a global provider of technology, engineering and construction solutions to the energy industry, based in Houston, Texas, where he supports the NCSA (North, Central & South America) region, as well as CB&I Storage Solutions. Previously, in his positions as Counsel for Hogan Lovells and as Head of Legal for Petrobras Venezuela, he accumulated a vast experience in the international natural resources industry. His practice has included upstream/midstream oil and gas project development and operations, granting instruments, joint ventures, engineering, procurement and construction (EPC) contracts for the construction of refineries, petrochemical plants, LNG facilities and other megaprojects, mergers and acquisitions, international business transactions, bidding processes and host government relations, among others. He has acted as arbitrator in commercial disputes and as co-counsel in international commercial and investment treaty arbitrations. Diogenes has served as member of the Board of Directors for major oil & gas companies in South America and is former president of the Legal Directors Committee at VenAmCham (Venezuelan American Chamber of Commerce). He has spoken and published extensively about oil and gas, foreign investment and arbitration and has been a professor of Contracts Law at Universidad Central de Venezuela and IESA (Instituto de Estudios Superiores en Administracion).
$i++ ?>
Key:
Complete
Next
Failed
Available
Locked
Open to view video.
I agree to keep confidential and private all information provided in this webinar, including the handouts and presentations found in this webinar, strictly for my own use and not to share, forward, distribute or make available any of this information for persons who are not members of AIPN or persons who have not paid to view this webinar.